Saturday, October 30, 2004
Always Remember
MBF watch: Republican iconography seems strangely familiar...
There's
this
: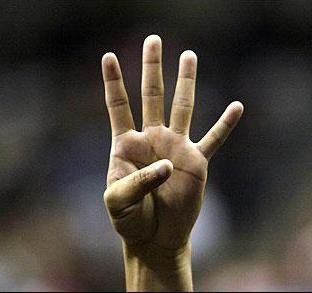 And then there's
this
: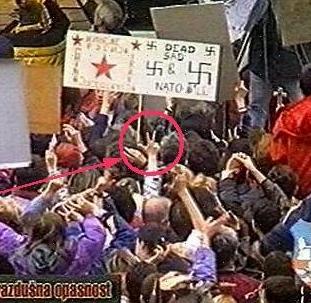 And of course there's this: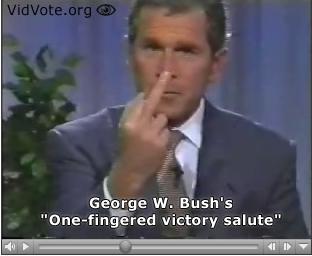 But I hear the torchlight parades are beautiful!
The Bush - A lie in progress
"Gift"
Why they fight
PA in a Landslide
Bush suppresses secret Supplement to the 9/11 Report until after the election
Pax—worse than Sinclair
Information Wants to Be Free
Iraq clusterfuck: Bush STILL hasn't gotten the troops armor!
Open GOTV thread
President Edwards
Suffer the little children
Today in the qWagmire
GOTV: "Ground War 2004"
Iraq clusterfuck: New extremely non-political Fallujah offensive
Friday, October 29, 2004
Goodnight, moon
Iraq clusterfuck: Headline of the year
Election Fraud 2004: Republicans use 20-year-old playbook to disenfranchise blacks
Now that We've Lost the Last Four Years...
Not arrogant, no no
Lemon-fresh pledge
He's b-a-a-a-c-k!
Gaslight watch: "Never mind!"
No one's buying it.
Karl Can't Be Likin' This
Suppression, anyone?
Bu$henomics: "untouched by analysis, history, or evidence."
The Media Monstrosity
Thursday, October 28, 2004
Goodnight, moon
More Qa Qaa about al Qa Qaa
Al Caca: Bush is Da Bomb!
How the Republicans support the troops
"Jumping to Conclusions"
The Wecovery: Unemployment up again. Surprise!
Gaslight watch: ABC breaks extremely non-political terror alert story
Math for Republicans
Explosive Proof
MBF Watch: The Thuggery List
Electing the Supreme Court
Like Talking to a Cocker Spaniel
Roveskampf and Selbsterhaltungstrieb
Massachusetts On a Roll!
Wednesday, October 27, 2004
Gaslight watch: Oh wow! There may be an extremely non-political terror alert this weekend!
Goodnight, moon
Does anyone have the full-size version of this image?
HA!
I didn't know Inerrant Boy was ambidextrous
Election Fraud 2004: Decoding the Republican Strategy
Science for Republicans!
No Spare Time Left, or Gone Missing
From Fallujah To the Sea
President Draco Malfoy
Can We Just Abolish the Electoral College, PLEEZE??
I'm happy to report...
Halloween beckons. Sharpen your carving knives!
Tuesday, October 26, 2004
Allawi bites the hand that feeds him
Goodnight, moon
This record should be played loud
GOTV stories
Iraq clusterfuck: Cheney risks coronary trying to save aWol's narrow ass
Election fraud 2004: Watchin' the defectives
Election fraud 2004: The Rehnquist Scenario
Supremes: Ralph "I'm a Republican Tool" Nader off ballot (fraud)
Training Dogs With Electricity
Bush AWOL: The issue that will not die
They get letters....
Trial balloon for Romney 2008?
GOTV: Tactics, Open to Suggestions
Bush comes out in favor of gay civil unions, left to the states
Alfred S. Regnery's long strange trip
The Case of the Dog That Didn't Bark
Monday, October 25, 2004
Goodnight, moon
Tiny bubbles....
100,000+ for Kerry/Clinton in Philly
Election fraud 2000: Lest we forget, lest we forget
Have Happy Faces On
Get 'em Out! Then Hunker Down for a Long Battle?
Election fraud 2004: Winger judge says no paper trail need in Florida
Election fraud 2004: Republicans back off from half of their claims
Kerry/Clinton rally in Philly
Red Cape Time
High Explosives for Dummies
Wolfsbane
Drip, Drip Drip Turns to Shower of Stones
Add a Missing Boeing 727...
Sunday, October 24, 2004
Goodnight, moon
The Next Kerry Ad
A Ringing Endorsement: May It Echo Far And Wide
Not On the Master List
GOTV: Cooking for Victory!
And speaking of Jeebofascists...
Iraq clusterfuck: 50 new Iraqi soldiers massacred, but hey! Who's counting?
Your taxpayer dollars at work!
"And thanks to our pollster, Marge Inovera!"
The "Daisy" Ad, v. 20.04
Ringing Endorsements
I like to stop at the Jeebo fascist shop...