Saturday, November 29, 2003
Bird in the Oven! Pilgrim in the Wind!
Mission accomplished!
Infiltration operation
Turkey Dangle
declared huge success.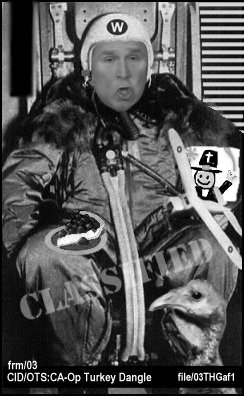 [Photo left] [High altitude photographic reconnaissance/image intelligence leaked during sensitive personal meeting with highly placed senior operative provides valuable insight on the highly sensitive nature of OTD during its final operational phases.] President George W. Bush returns aboard Air Force One following covert Thanksgiving dinner mission in Iraq.
***
Thanksgiving Day, November 27, 2003
Just as members of the Plymouth Colony feasted upon prime cut aged venison steaks, Lobster a la Nage, and bowls of hot buttered popcorn, our Commander in Chief George Winthrop Bush arrived in Baghdad to serve up hearty heapin' helpings of golden-brown roast turkey, choice grains, oyster stuffing, and mincemeat pie. For the benefit of those pilgrims helping further America's errand in the Iraqi wilderness, Commander W declared: "In ye name of God, having undertaken, for ye glorie of God, and advancement of ye faith, doe by these presents solemnly & mutually in ye presence of God, give thanks, and of one another, covenant and combine our selves together into a civill body politick, for our better ordering & preservation, & furtherance of ye ends, unto which we promise all due submission and obedience. Amen."
Commander Chief W "reaffirmed his country's commitment to build a new, democratic and prosperous Iraq," and on behalf of all freedom loving Iraqi people, proclaimed Thanksgiving Day a national Iraqi holiday, whether they like it or not, and reassured every American serviceman and woman that they were defeating enemies of Thanksgiving in Iraq so that we don't have to confront the enemies of Thanksgiving at home. Commander W also reminded our men and women in Iraq that founding father Thomas Jefferson understood that low level radiation makes an excellent soil additive for acid loving plants such as blueberries. New York City Mayor Michael Bloomberg arrived moments later with an entourage of dignitaries and a splendid array of scantily attired hookers from Atlantic City New Jersey who entertained American troops by performing a spectacular series of cheerleading dance routines on behalf of the New York Giants and heterosexual male fertility and free market values and service to our Western cultural heritage in general. 150 minutes later the entire visitation was a wrap and Commanding Angel in Chief W lifted back into the ancient evening and was gone.
All in all it was a victory for freedom and providence and Christianity and professional sports and consumers and the booming domestic holiday shopping economy which is the most booming economy since Louis the XIV broke ground for the palace of Versaille.
How do I know it's the most booming economy in three thousand years give or take a few months? Because Kathleen Mathews, the wife of Chris Mathews, said so right on TV. And she knows about these things because her husband's face appears on the side of many busses in Georgetown or Manhattan or someplace exciting like that. A bus, especially if your husband's picture is on it, is a key indicator of economic vitality at least on some level. A bus is also a public transportation vehicle designed to move throngs of greater unwashed subjects from one booming economic location to another including to and from New York Giant football games in the Meadowlands and casinos in Atlantic City. I myself have never been on a public transport bus because I am a blogger and am wealthy beyond any practical reason and live a simple hermetic life hidden away in a barronial gravy boat of a castle which was once owned by an international arms dealer and is perched high on the banks along the Hudson River. But never mind that. What really matters is that public transportation vehicles benefit everyone and the more people who ride on busses to and fro and the more often your picture appears on the side of a bus the stronger and more vitality-like the nations economy becomes.
Which just goes to show you that we all have something to be thankful for on Thanksgiving. Even if you're riding around aimlessly on a bus with Chris Mathews staring at you and you have to think up something quick to be thankful for, at least you're thinking about something, and thats something to be thankful for in and of itself. Now isn't it?
So Happy Thanksgiving. It doesn't matter that Thanksgiving is over with because Thanksgiving is never really over with. It goes on and on. It's a forward looking statement. Just ask Chief Massasoit of the Wampanoag. Then again, thinking back on it, maybe you shouldn't ask him. But just ask all those people in Iraq who live each day in harms way and survive one more day to tell about it and therefore draw one more day closer to the next Thanksgiving Day. That's something to be thankful for even if the birdbrain who has made mincemeat of honesty, democratic parley, and due process, is flying around the globe like a blind clog in a meat market. Scrub that unscrupulous chucklehead and his foul brood. He'll be packing his giblets back to Crawford aboard a bus by next Thanksgiving Day. Which is not only a forward looking statement but also an optimistic indicator of future economic vitality.
And thats something to give thanks for any day of the year.
"And there's only one person who hugs the mothers and the widows, the wives and the kids on the death of their loved ones. Others hug, but having committed the troops, I've got an additional responsibility to hug, and that's me, and I know what it's like." - George W. Bush, television interview with Barbara Walters, December 2002.
Gutless, feckless Beltway Dems beaten, left for dead
Wes Clark you moron!
Friday, November 28, 2003
Occupiers? Who? US?
Good Morning, Iraq, Happy Thanksgiving, Baghdad
Wednesday, November 26, 2003
Campaign Track
"Perception Management"
Tuesday, November 25, 2003
Gutless, feckless Beltway Dems sell Federal workers down the river
Anger
Feckless, gutless Beltway Dems
Killjoy Is Here
"Moral Disembowelment"
"Democrats Take A Dive"
Suggested Reading
Okay, Now You Can Get Mad
Monday, November 24, 2003
"Framing" Anyone?
You Can Take The Boy Out Of The Fraternity....
What Are These Guys Thinking About? Part Forever
Welcome Back, Arthur Silber
One More Terrible Idea Among So Many
The FCC, Big Media, Saving Our Democracy, And All That
Sunday, November 23, 2003
Corporate chieftain turns lexicographer
Here's a copy of the Medicare Bill
"Mission Accomplished"
Senate Democrats Struggle On
Wingers trying MeetUp.com
Where's the ridicule?
Yech
"The only thing we have is fear is fear itself."
"Marriage"